Author: Neil Herron
CEO & Founder | Grid Smarter Cities
We have seen significant growth and progression for Grid Smarter Cities (Grid) with the focus on kerbside management shifting from being a future policy to being a more practical and realistic solution that we can deliver now. It is more apparent that exploring realistic and practical solutions more than articulating problems became a cornerstone for many stakeholders.
The kerb space became a real thing, a flexible and dynamic piece of real-estate. The Department for Transport (DfT) Transport Decarbonisation Plan and its Local Authority Toolkit citing deployment of 'dynamic and digitalised kerbside management' provides a clearer understanding that the kerbside can be an enabler in determining better place based outcomes from environmental, social and a commercial perspectives, as was highlighted previously by engineering consultants Stantec in its "Loads Easier – dynamic kerbside management – the key to unlocking a greener, safer and more equitable city future" report. 
Dynamic kerbside is now being seen as positive and deliverable by both kerb owners and kerb users, which became the catalyst of the much-awaited change in 2022. The realisation that it benefits all stakeholders from using the kerb space more efficiently. 
It's been a long and winding road that leads to DfT and Local Authorities to get to the position of much better understanding. We can finally say we have reached the tipping point which the acceptance from the Department for Transport and other influential bodies became an enabler, creating that trigger point for the local authorities to finally get what they have been waiting for – an approval or acceptance from the DfT that innovation at the kerbside is not only a thing – it can be delivered now.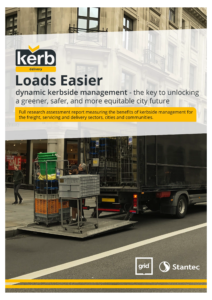 We kickstarted the year with a release of the Loads Easier Report – a report by Stantec and Grid Smarter Cities demonstrating the social, environmental and commercial benefits that can be delivered by reducing the impact of existing freight, servicing and delivery vehicles on the city's road networks through kerbside management, while also unleashing capacity to meet the growing demands and challenges in London.
It was also a great year for our thought leadership with the Grid team cementing themselves as subject matter experts on kerb space following our involvement in various articles, consultation and research projects initiated by both government and private agencies. 
We have a unique understanding of the differing needs of commercial vehicle and freight users and servicing and maintenance people; the granular specific understanding of regulation policy; our notion to help determine the best use of kerb space to deliver the beneficial outcomes needed to meet decarbonisation and NetZero targets; our critical understanding of the need for behaviour change for both kerb users and kerb owners – driven by mutual benefits – instead of a punitive or taxation approach – enabling us to contribute relevant insights and materialisation of some initiatives that have been introduced.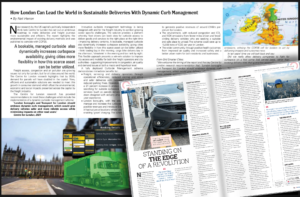 ITS UK Review featured our Standing on the Edge of a Revolution article highlighting 2022 as the year of the kerb as we saw the acceleration of the wider awareness manifesting the kerbside as the gateway to most commercial activity that is taking place in any city. We also brought forward relevant insights in How London can lead the world in sustainable deliveries with Dynamic Curb Management article published in Parking Review.
We tackled thought-provoking round-table discussion at the Delivering healthy streetscapes: Enabling accessible kerbside for last mile deliveries webinar which highlighted the importance of balancing the needs of different users within the urban streetscape; identifying new urban mobility methods for last-mile deliveries such as e-cargo bikes and multi-modal, parcel lockers and EV van deliveries; exploring local authority strategic transport plans looking at the changes of kerbside till 2030; exploiting technology and data to better inform kerbside activity and monitor efficiencies of space; and incorporating health measurements into initiatives in the healthy streetscape environment.
We have actively participated with various bodies such as Intelligent Transport System (ITS UK), Smart Mobility Living Lab (SMLL), London Technical Advisers Group (LoTAG) and many other organisations where we delivered our value proposition, chaired workshops and panel sessions, shared insights, exchanged knowledge, collaborated, and networked with other stakeholders. Following on from our success at the UK pavilion at the ITS World Congress in Hamburg in Oct 2021, we had invitations to ITS European Congress in Toulouse, DIT in LA, Intertraffic Amsterdam, and Highways UK Pavilion in Birmingham.
We have facilitated collaboration projects with Buchanan Computing, Appyway and SpotParking, integrating their existing underpinning mapping platforms with our Kerb platform allowing a seamless introduction of dynamic kerbside management solutions ready for real-life use case deployments.
In September, we launched the new Grid website with fresh content, user interface and functionalities that are designed and developed to enhance visitors' experience, engagement and efficiently facilitate our communication strategies and marketing implementations, bringing the Grid brand to the next level.
The year 2022 marked the beginning of our commercial success as we commenced projects in the UK and licensed the use of our Kerb platform and the smart signs solutions to a partner in The Netherlands.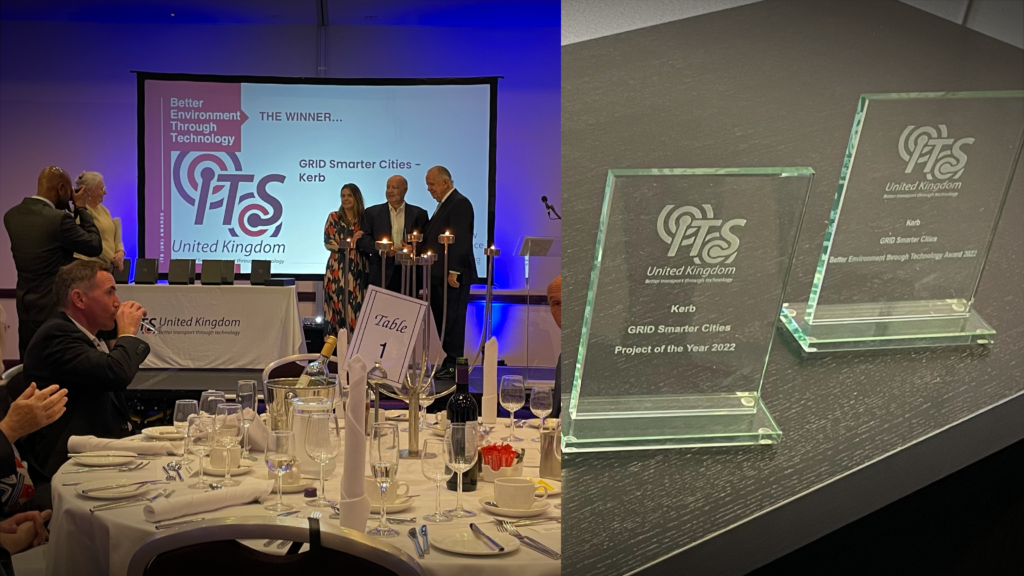 Towards the last quarter, Grid's success continued as we won two hugely prestigious awards – ITS UK 2022 Project of the Year, and Better Environment through technology awards. Both of which recognised the Kerb platform for its innovative deployment benefiting the community and the environment.
Finishing the year with a big bang, Grid Smarter Cities launched a pilot project in Southwark. The Kerb-Dock Project facilitates cross-modal transfer between the river and road freight, supporting zero-emission last-mile delivery modes and helping alleviate road traffic and its negative impact to the community and environment. Getting the smart signs installed on the ground in Southwark just before Christmas was a real highlight of the year.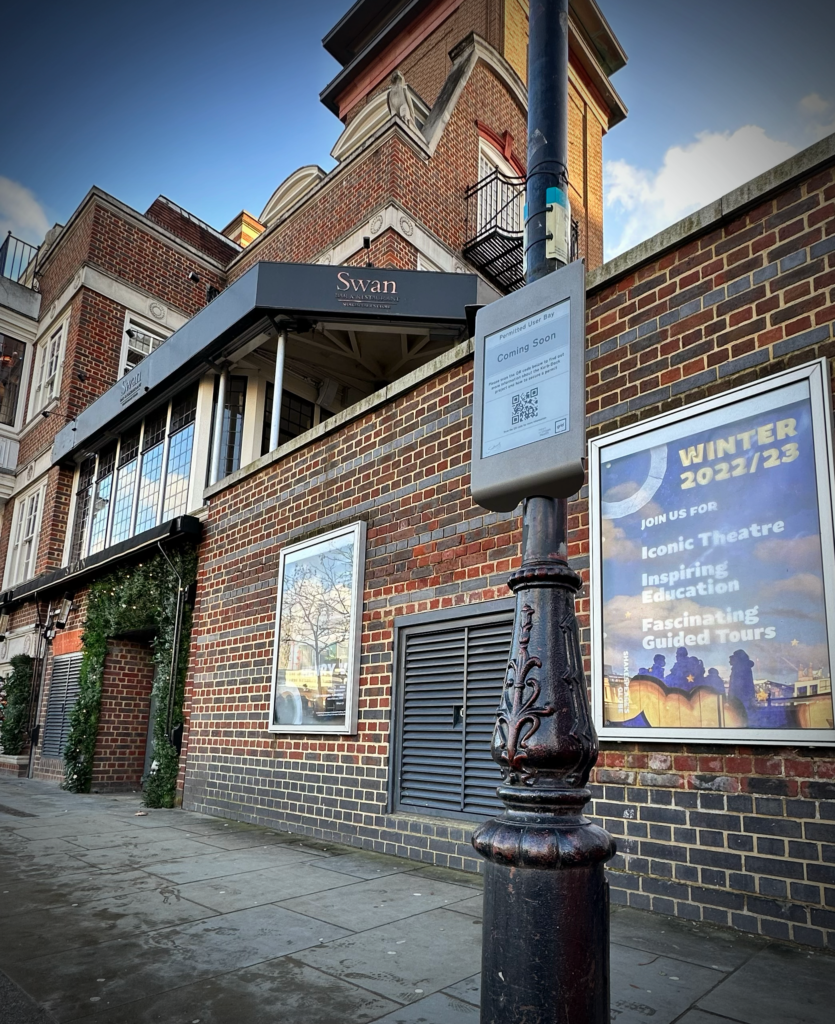 So how do I summarise 2022? After many years of pushing uphill, whether that be policy, investors, local authorities or operators, it has been fantastic to be able to say that 2022 marks the end of the beginning for kerbside management on UK streets – a new age of delivering the benefits of implementation and wider adoption. It is truly humbling when the fruit of your hard work, patience and dedication slowly unfolds in front of you after having to wait in anticipation while hoping for something to happen. The maturity and the direction of the business is going from a vision and concept into a delivery and a proposition that can be delivered on the street, piloted, approved and then taken to scale. From here, we would look into the future; one of providence, acceptance, and validation where we would be able to harness the kerbside's real and tangible benefits for all users, the community, and the environment.