This project continues to be developed alongside Westminster City Council with an estimated deployment date in early Spring 2024.
Grid Smarter Cities are delighted to announce an innovative new project with Westminster City Council. To better manage the access and dwell times of freight operators, the council, and technology based solutions provider, Grid Smarter Cities will deploy two EV (electric vehicle) bookable loading bays in central London. The bays will be situated in densely populated office and retail areas, which have previously been identified as key delivery hot spots. Using Grid's Kerb® Platform, the bays will be able to be booked in advance by freight operators with an electric van via an app and online platform, the delivery can then be completed on foot or by cargo bike.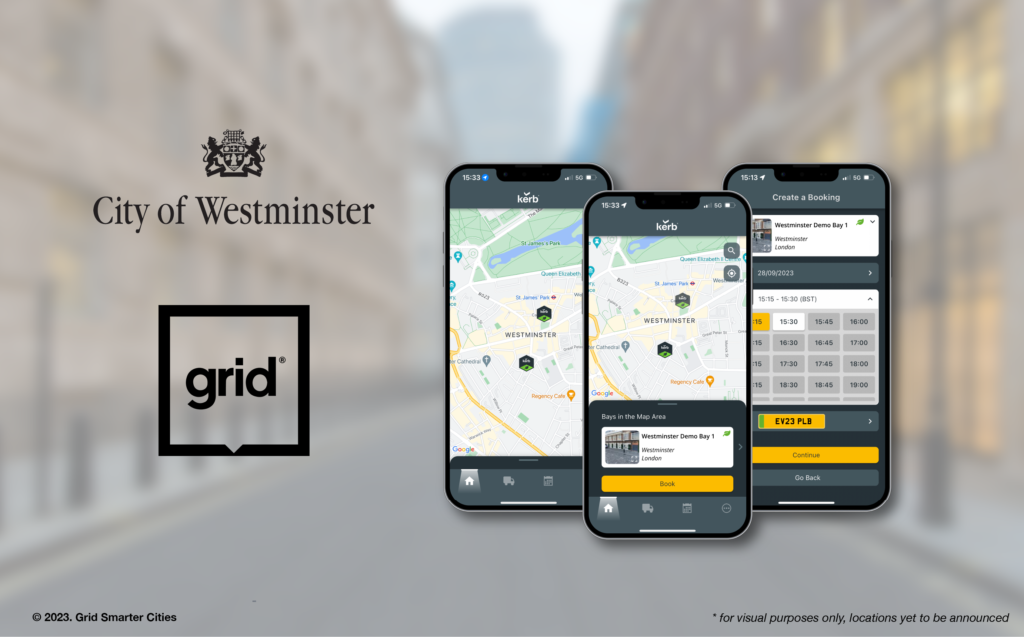 Quote from Neil Herron CEO + Founder of Grid Smarter Cities:
"We are excited that Westminster is going to deploy Grid Smarter Cities' Kerb Platform to help unlock the benefits of the kerb to support efficiencies for commercial freight operators, while helping to reduce congestion and improve air quality. 
This is a monumental leap forward for councils, enabling the use of technology to dynamically monitor and manage loading bay activity and access within our urban spaces. Kerb gives authorities visibility of micro kerbside behaviour and transactions for the first time, providing key data and analytics for future city prioritisation and improved permissions for operators.
It is essential that innovation helps accelerate the transition to EVs in order to deliver ambitious Borough level and national government targets.''
Cllr Paul Dimoldenberg, Cabinet Member for City Management and Air Quality at Westminster City Council, said: 
"Westminster City Council is absolutely committed to expanding and improving green transport infrastructure, and we're very excited to launch this new initiative with Grid Smarter Cities to support electric freight distribution vehicles in Westminster. 
"This is just one of the ways we're working with our partners to develop innovative solutions that keep our city moving, while at the same time reducing carbon emissions and cleaning up air quality."
Grid's booking platform allows freight operators to book loading bays in advance, in slots ranging from 30 to 90 minutes duration to encourage onward delivery completion by foot or cargo bike – unlocking many benefits in greener, safer deliveries within the capital. This initiative will run for an initial 18 months from Spring 2024, only pre-registered delivery operators can use the bays, for more information and to sign up to the scheme please contact [email protected]. 
About Grid Smarter Cities:
Grid Smarter Cities is a software solutions company with sector specific expertise in kerbside management and last mile logistics. Grid has developed Kerb, a kerbside management platform to deliver a 'win-win' scenario for cities and commercial operators, helping to address key logistical challenges and global environmental issues at both the macro and micro level.
At Grid Smarter Cities we care about the future. We help resolve key logistical challenges and global environmental issues with smart but simple technological solutions. Often overlooked and undervalued, the Kerb emerges as a powerful asset with which to deliver positive environmental, social and economic outcomes for Kerb Owners and Kerb Users alike.
Westminster Council are funding the project with Grid Smarter Cities providing the booking platform, two on-street e-ink signs, driver app and powering technology. Both bays will be experimental traffic orders. 

The pilot supports Westminster City Council Freight, Servicing and Deliveries Strategy and Action Plan 2020–2040, which includes proactive kerbside management as one of its 9 strategic actions. Including; more effective use of on-street loading and unloading bays throughout the 24-hour period to reduce commercial vehicle movements.